What type of cabinets do you build?
We build Face-frame and European style Cabinets.
What's the difference between Face-frame and European?
Face frame cabinets have space between the doors and drawers. European style cabinets are more of a "box" and do not have spaces. Pulls or knobs are also required for European cabinets.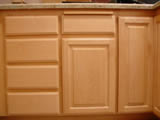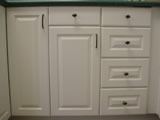 Face Frame European
How do we get started?
To start the design process, we can either work from a set of plans or we can take measurements directly.
How long will it take before my cabinets are ready?
Typically it takes 6-8 weeks to complete a project. However, these times can vary depending on the size and complexity of the job.
How do I care for my cabinets?
To remove dust: Dust buildup may scratch or dull the surface if not removed correctly. Simply wipe the surface with a cloth dampened with a cleaning polish or mild detergent.
To clean: Wipe the surface with a cloth dampened with a non-wax containing polish or mild detergent solution. Avoid the use of ammonia based products or silicone oils as they may cause damage over an extended period of time. Spills should be wiped up promptly to avoid potential problems. Excessive, prolonged exposture to direct sunlight, high temperatures, and high humidity can cause damage to both the finish and the wood itself and should be avoided.
What is Unicorn Cabinet's Contractor's State License Number?
CSL #667412
How can I get in touch with Unicorn Cabinets?
You can see our contact information here.